Sacred Heart University
Sunday, Feburary 26, 2023
Contest announcement mailing list

---
---
The following 5 teams from the Greater New York Region are advancing to the
ICPC North America Championship in Orlando, Florida, May25-30 2023: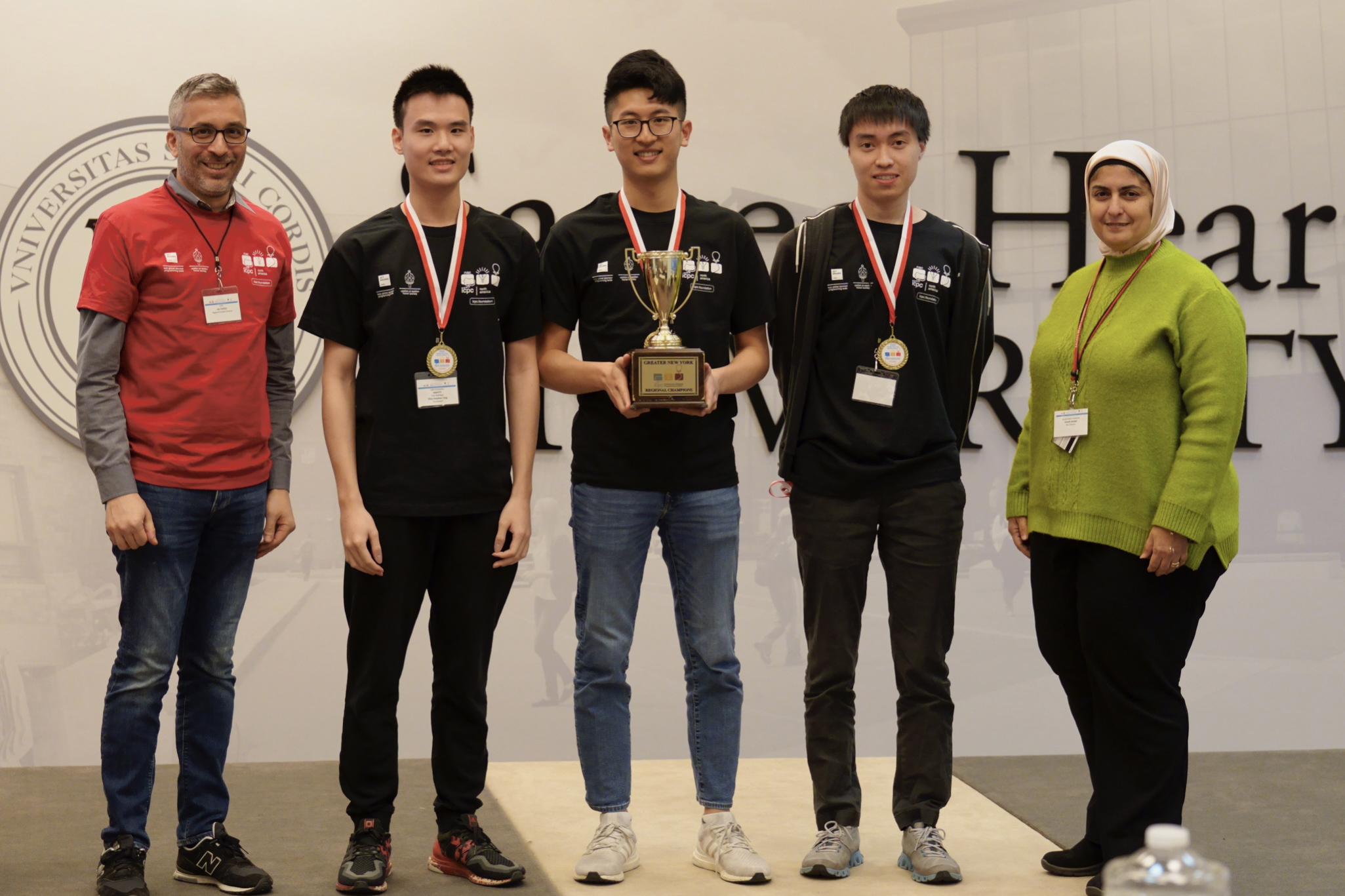 Greater New York Regional Champion for 2022 - "Yale-Bulldog1"
Team2-NYU "RTFP"

Team40-Rutgers "FFT Energy"

Team50-"Princeton 1"

Team16-SUNY Stony Brook "Store Byte Unsigned"
---
Final (official) results: Click Here
All Team Photos: Click Here
Photo album of contest day can be found at this link.
Watch a playback of the last hour of submissions for the 2022 Greater NY Regional Contest held at Sacred Heart University on Sunday, February 26, 2023!!!
---
---

We look forward to seeing you in the fall for the 2023 ICPC Greater New Regionals
Tentatively scheduled for Sunday, October 29, 2023 at Columbia University in New York City!
Photographs will be available when compositing is complete. A link will appear here at that time.
Hosted by:
Sacred Heart University
Sacred Heart University West Campus, 3135 Easton Turnpike, Fairfield CT (West Building 1st Floor)
Date: Sunday, Feburary 26, 2023
Schedule:
8:00am: Registration opens (West Campus West Building, 1st Floor)
8:00am - 11:00am: Breakfast (West Building Cafeteria)
8:00am - 9:00am: Practice contest (West Building Classrooms)
9:00am - 10:00am: Opening Ceremony (West Building Cafeteria)
10:00am - 3:00pm: Contest
1:00pm - 3:00pm: Coaches Meeting/Talks/Presentations (West Building Room TBA)
3:00pm - 4:30pm: Closing Ceremony and Dinner
Team Names

Each team name must consist of the institution name (greater than 1 character but less than or equal to 8 characters) followed by a hyphen (-) followed by a team name (greater than 0 characters but less than or equal to 24 characters). Please note that spaces are counted as characters.
Format:INSTITUTION-TEAMNAME
INSTITUTION = University name or abbreviation. 1 < length(INSTITUTION ) <= 8.
TEAMNAME = Your team name. 1 <= length(TEAMNAME) <= 24.

Each individual institution must use the same name for the INSTITUTION field.

Eg. If Binghamton University sends multiple teams each team must fill in the INSTITUTION field with the same name.

BU-TEAMNAME1
BU-TEAMNAME2
BU-TEAMNAME3
OR
SUNYBING-TEAMNAME1
SUNYBING-TEAMNAME2
SUNYBING-TEAMNAME3


Number of computers per team: 1
Registration Deadline TBD
First-time contestants: Create an account on the ICPC website here
Returning contestants: Make sure your ICPC profile information is up-to-date here (including shirt size)
Coaches: Once your contestants have accounts on the ICPC website, create your teams here
T-Shirts - Please make sure to fill out the correct sizes for yourself and your team. Shirts must be ordered weeks in advance.
Eligibility
Most first semester graduate students are allowed to participate. A team may be comprised of all first semester graduate students that meet eligibility requirements. If you have any questions about this please email the contest Director.
For a complete list of rules and eligibility requirements, click here.
Cost:
$175 each team (including one coach per school), plus $50 per guest.
PRACTICE CONTEST
Each team will be required to participate in the ongoing practice contest.
A link to the contest image will be emailed when available.
Previous Years
Other Useful Resources
For More Information contact the Contest Director Joe Terlizzi

---
Last modified . Please email joeterlizzi@icpc.global with comments, questions, or corrections.