---
---
Team Photos on Google or Team Photos Directory
Event Photos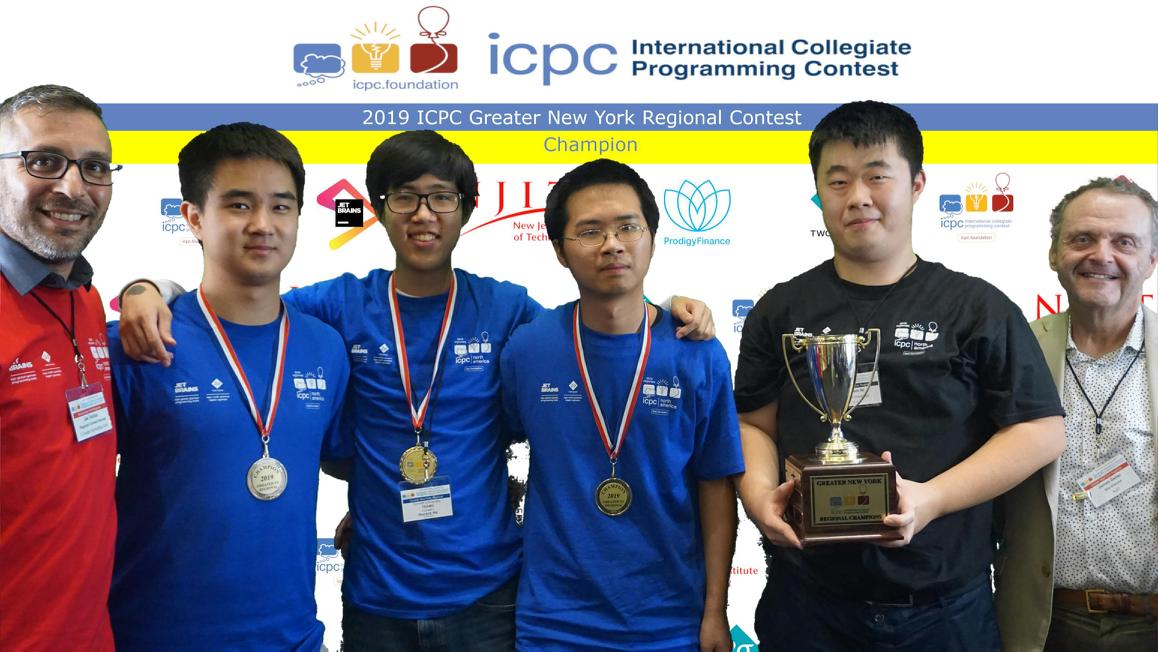 Greater New York Regional Champion for 2019 - "Cornell-1"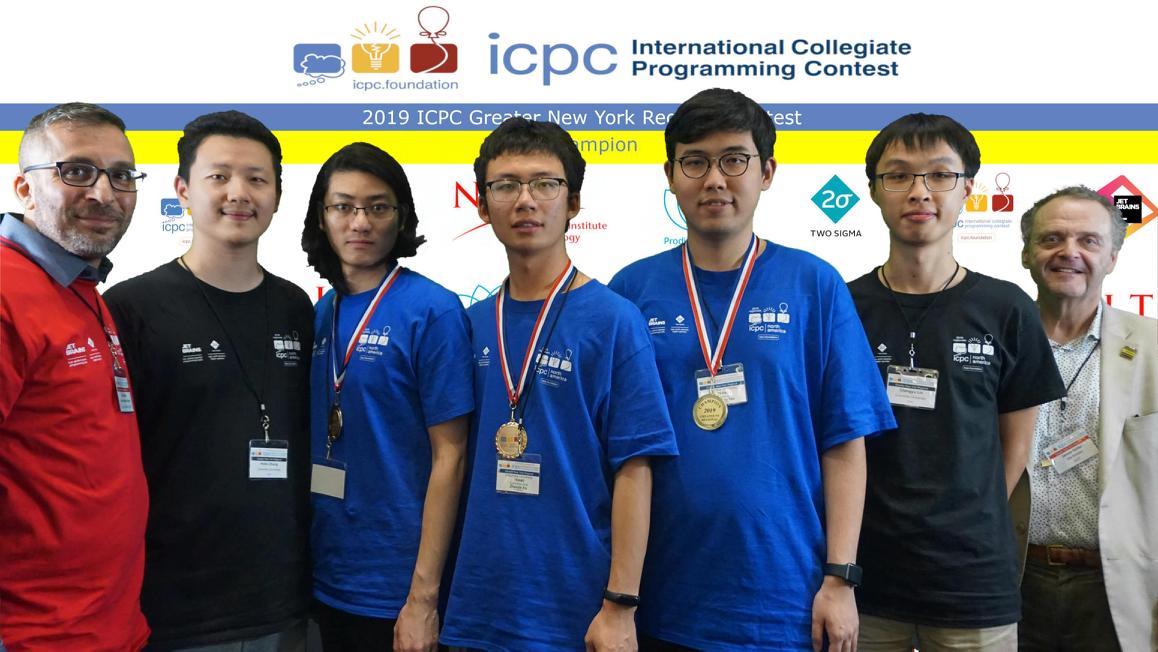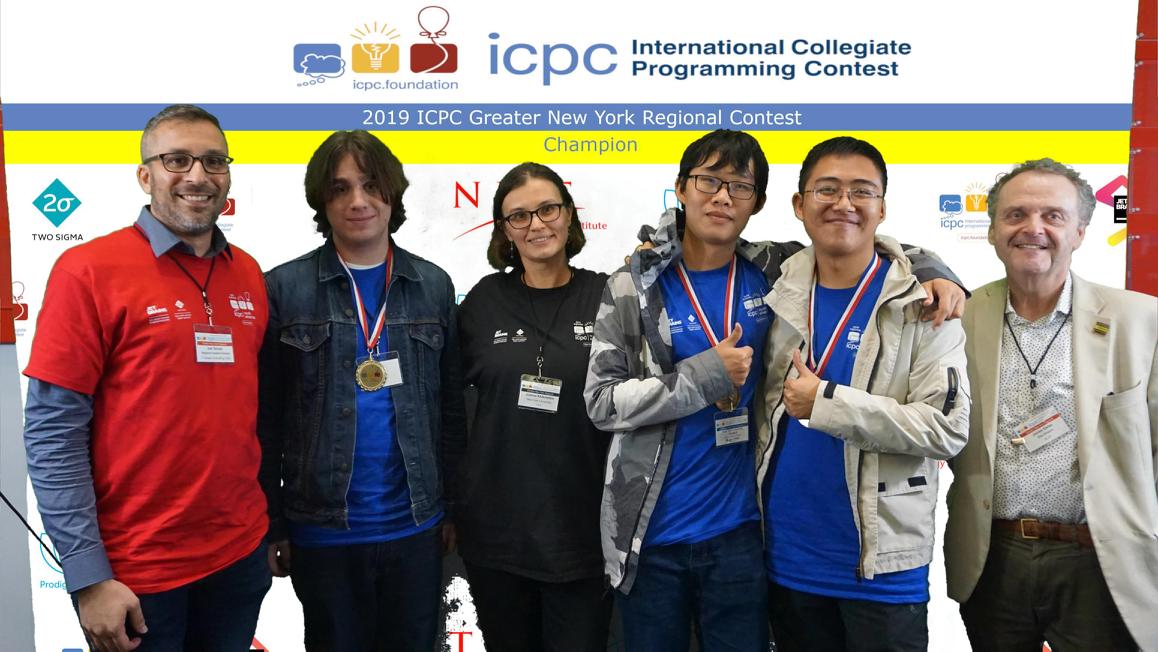 Champion - Columbia-unus
Champion - NYUCIMS-TEAM1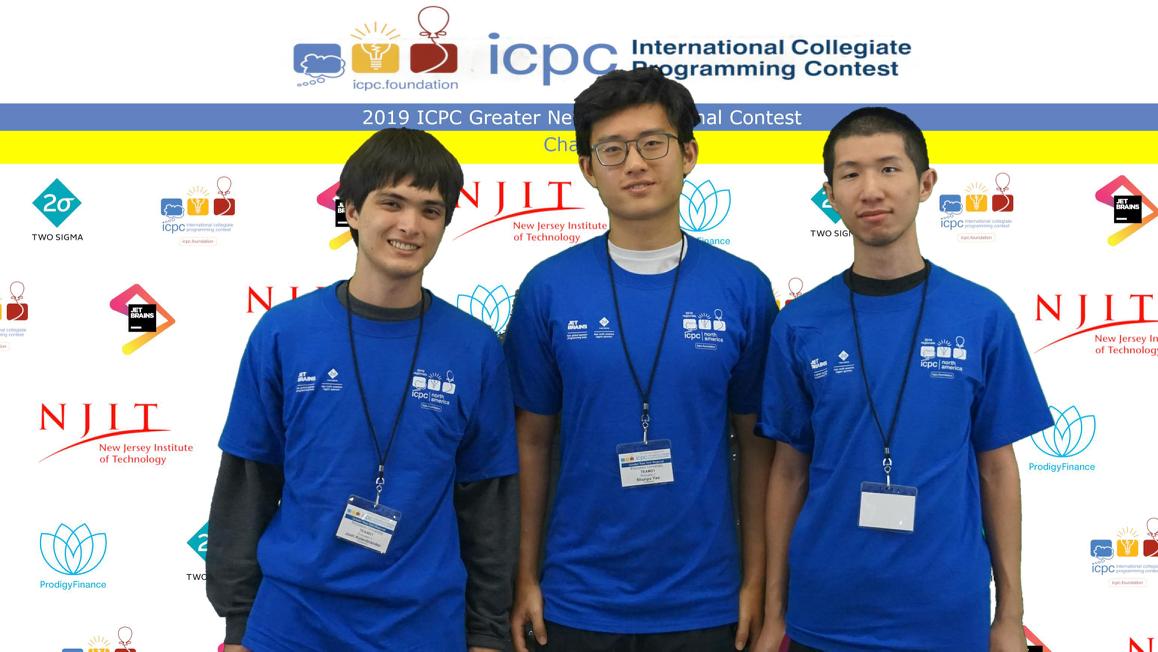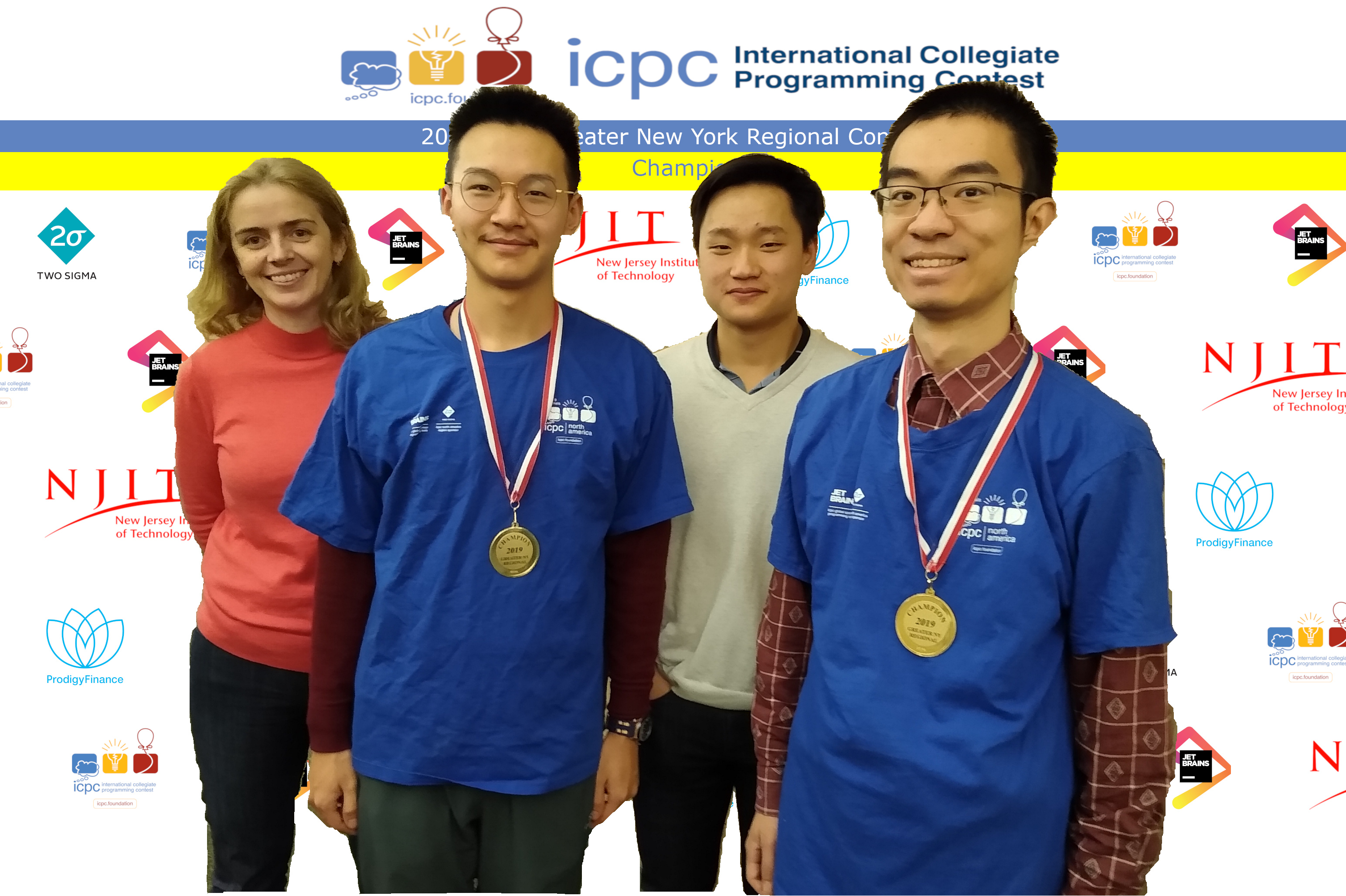 Champion - Princeton-1
Champion - Yale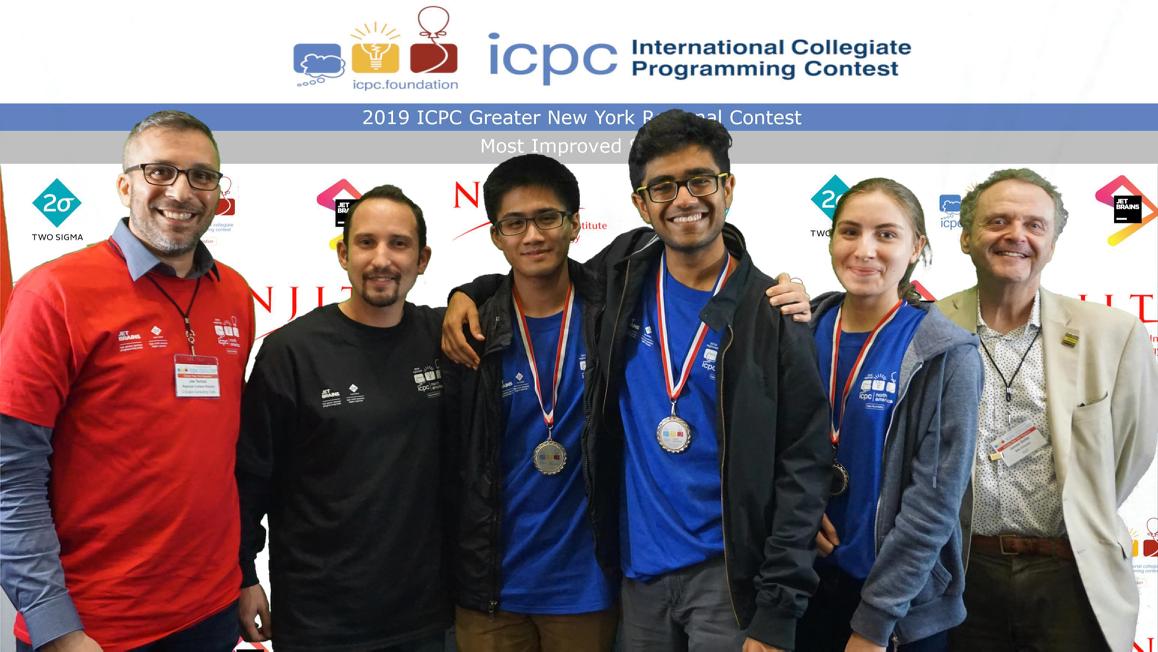 Top Sophomore/Freshman
Most Improved Team
Stevens-1 Hunter-1
---
2019 General Contest Information
Photographs will be available when compositing is complete. A link will appear here at that time.
Hosted by: New Jersey Institute of Technology
Date: Sunday, October 27, 2019
Campus Map:
Parking:

Wilsey Parking Deck (Bldg. 37 on the map)

Schedule:

8:30am: Registration opens (GITC, Bldg. 31, ground floor)
8:30am - 11:00am: Breakfast (Campus Center, Bldg. 12)
8:45am - 10:00am: Practice contest (GITC, Bldg. 31, 2nd floor)
10:15am - 11:00am: Opening Ceremony (Campus Center, Bldg. 12)
11:15am - 4:15pm: Contest (GITC, Bldg. 31, 2nd floor)
1:00pm - 3:30pm: Lunch - No food is allowed in the contest labs (Campus Center, Bldg. 12)
1:00pm - 2:00pm: Coaches Meeting (Campus Center, Bldg. 12...next to the food)
2:00pm - 2:45pm: Coaches Tour (GITC, ground floor, Makerspace)
3:00pm - 3:45pm: Optional Coaches Panal (GITC, Bldg. 12, Lecture Hall 1400)
4:30pm - 5:30pm: Closing ceremonies and prizes (Campus Center, Bldg. 31)

Team Names

Each team name must consist of the institution name (greater than 1 character but less than or equal to 8 characters) followed by a hyphen (-) followed by a team name (greater than 0 characters but less than or equal to 24 characters). Please note that spaces are counted as characters.
Format:INSTITUTION-TEAMNAME
INSTITUTION = University name or abbreviation. 1 < length(INSTITUTION ) <= 8.
TEAMNAME = Your team name. 1 <= length(TEAMNAME) <= 24.

Each individual institution must use the same name for the INSTITUTION field.

Eg. If Binghamton University sends multiple teams each team must fill in the INSTITUTION field with the same name.

BU-TEAMNAME1
BU-TEAMNAME2
BU-TEAMNAME3
OR
SUNYBING-TEAMNAME1
SUNYBING-TEAMNAME2
SUNYBING-TEAMNAME3

Most teams from last year would be valid with these new rules.
An example of a subtle change would be our champions:
Columbia - Kington
The space before the hyphen (-) would have to be eliminated.
Columbia- Kington or Columbia-Kington would be valid.


Name Badges

Eveyone will be issued name badges at registration including coaches and guests.
No one without a name badge will be allowed into any contest facility including, but not limited to, opening/closing cerimonies, food area, contest area, and the coaches meeting.
DO NOT LOSE YOUR BADGE!!!

Number of computers per team: 1
Languages

C/C++/Ada (gcc/g++/gnat) 6.1.1
Java OpenJDK 1.8.0
python 2.7.12 and 3.5.1
Kotlin

Registration (Deadline: Wednesday October 9, 2019)

First-time contestants: Create an account on the ICPC website here
Returning contestants: Make sure your ICPC profile information is up-to-date here (including shirt size)
Coaches: Once your contestants have accounts on the ICPC website, create your teams here
T-Shirts - Please make sure to fill out the correct sizes for yourself and your team. Shirts must be ordered weeks in advance.

Eligibility

Most first semester graduate students are allowed to participate. A team may be comprised of all first semester graduate students that meet eligibility requirements. If you have any questions about this please email the contest Director.
For a complete list of rules and eligibility requirements, click here.

Cost:

$150 each team (including one coach per school), plus $50 per guest.

Example - University A brings 3 teams.
The fee of $450 will include 9 students (3 students per team) and 1 coach.
If each of the 3 teams brings a different coach the fee would be $550 as the other 2 coaches would be considered guests and be issued a fee of $50 each.

Checks MUST be made out to "ICPC Foundation." Please make a note in the memo that the check is for "GNY Registration."
Checks MUST be received by Wednesday, October 9, 2019 to avoid any late fees and guarantee a slot at the contest.
Any teams registering after the deadline will be assessed a $30 late fee.
Mail checks to:

Greater New York ICPC
PO Box 126
Oceanside, NY 11572

PRACTICE CONTEST

Each team will be required to participate in one of two mock contests (Dates: Monday 10/21/19 @7PM OR Wednesday 10/23/19 @2PM).
A link to the contest image will be emailed to you upon registration.
Instructions to burn the image to an USB drive can be found here:ImageBurnUSB
Each team will be assigned a login and password.
Each team will be required to submit a correct and incorrect solution to a problem provided. This will help familiarize each team with the system and provide test data for the region.
Failure to participate in one of the mock contests will result in a team receiving low priority should any technical issues arrise during the practice and/or actual contest on October 27.

Special Instructions: Please provide details if any of the following apply.

Does your team have any dietary restrictions? If so, what are they?
Any other special needs or requests?

Previous Years

Other Useful Resources

For More Information contact the Contest Director Joe Terlizzi


---

Last modified . Please email joeterlizzi@gmail.com with comments, questions, or corrections.